Month's of Inventory Determines if We're in a
Buyers' Market or Sellers' Market in Metro Detroit
The current state of the housing market may be different from the frenzied activity we saw over a year ago.  It's important to track the numbers by the city to understand if we are in a Sellers' Market in Metro Detroit.  In some areas, the scales have tipped in the Buyers' favor.   This means your negotiation power could be different based on location and price range.
The latest report from the National Association of Realtors (NAR) shows that the housing market supply remains exceptionally low, with a 2.6-month supply of homes available for sale at the current sales pace. This is significantly below the 6-month supply necessary for a 'normal' or 'neutral' market, as demonstrated in the graph below.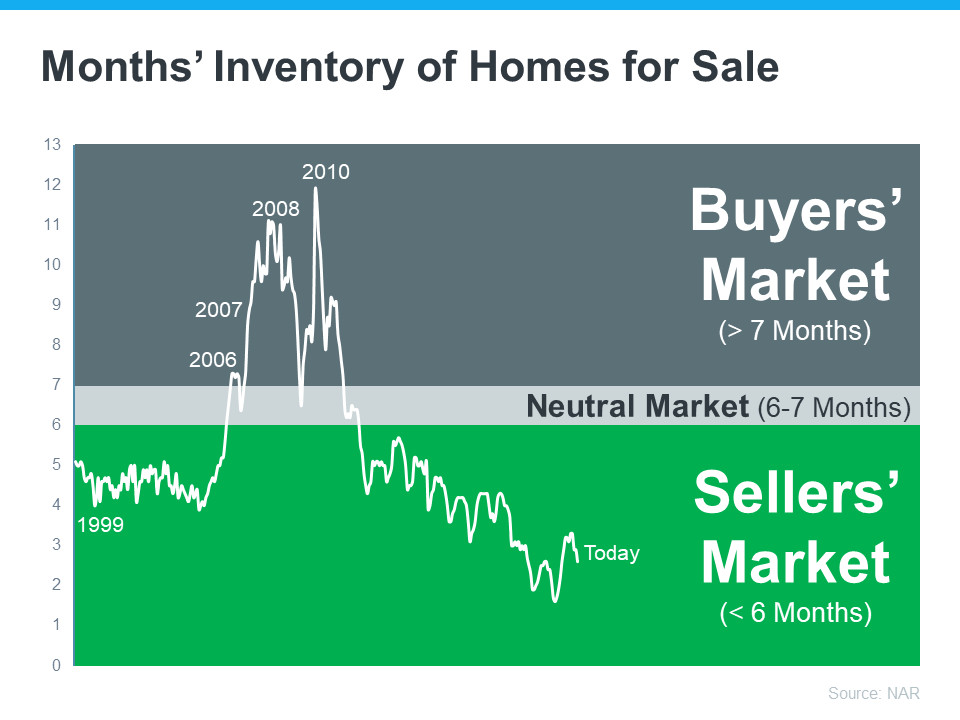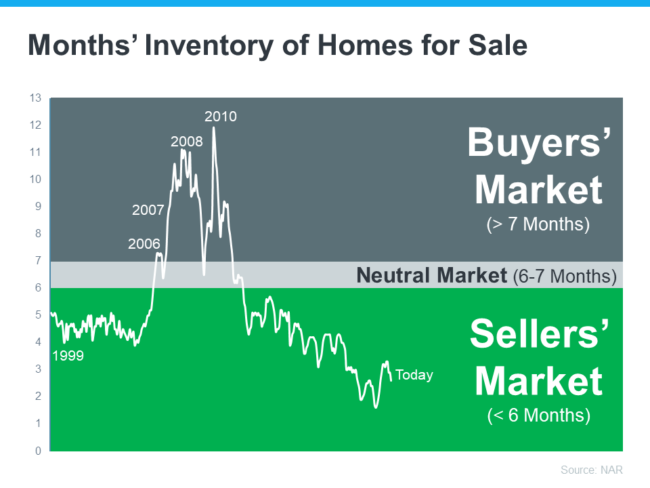 What Does This Mean for You?
If your location is still in a Sellers' Market in Metro Detroit, what does this mean for you? Buyers are finding it increasingly difficult to find a home to purchase. In a market where buyers know they are not the only ones interested in a particular home, they are likely to submit very attractive offers. As a result, sellers are in a position to negotiate deals that meet their ideal terms. Lawrence Yun, Chief Economist at NAR, says:
"Inventory levels are still at historic lows. Consequently, multiple offers are returning on a good number of properties."
Currently, there are still buyers who are ready, willing, and able to purchase a home. If you list your house right now in good condition and at the right price, it could get a lot of attention from competitive buyers.
Bottom Line
Today's Sellers' Market in Metro Detroit holds great opportunities for homeowners ready to move. Listing your house now could maximize your exposure to serious, competitive buyers. Let's connect to discuss how to jumpstart the selling process.
If you find this information useful, like it and share it with your friends and family.
Step #1

~

Know the Market Your In and Home Prices?
💥 Important 💥 Know Your Numbers…It represents your Money! This is Where You Track Home Prices and Housing Inventory Levels (Supply and Demand) by City, & updated monthly by the 15th. You have direct access to all data from the Multiple Listing Service because I programmed it that way 🤩
Whether you are Home Buying or Home Selling, this should be your starting point. Know the market you're in…Remember, the numbers in the graph and trends represent your MONEY💰 I just finished a blog post regarding the importance of tracking home prices.
By doing the research you can determine if you're in a Buyer's Market or Sellers' Market in Metro Detroit. As a programmer, you have full access to everything in the multiple listing service on my website. You don't need a realtor to access the data. Before you start working through the 5 steps, start with understanding the difference between Price-Driven Approach vs Value-Driven Approach… then cick button below and work through the 5 steps.

If You Need To Sell 1st…
Keep Buyers Focused on your Property vs the competition
How to Marketing Your Home
To take advantage of a Sellers' Market in Metro Detroit, you need to start with a  marketing plan. No 2 homes are alike, and agents need to 🛑 marketing ONE size fits all. We no longer have an exposure problem (internet). Your home is buried on public home search internet sites. The only way to compete on those platforms is the price. If you want more money, you need to apply Influence. Separate your home from the competition, so the Buyer sees value. Keeping them focused on your property and not getting lost in homes' inaccurate data on public internet sites is necessary. Having digital omnipresence on serval platforms is your key to success. Remember MORE INFLUENCE = MORE 💰. We have details on how you can utilize High Tech Marketing and Win!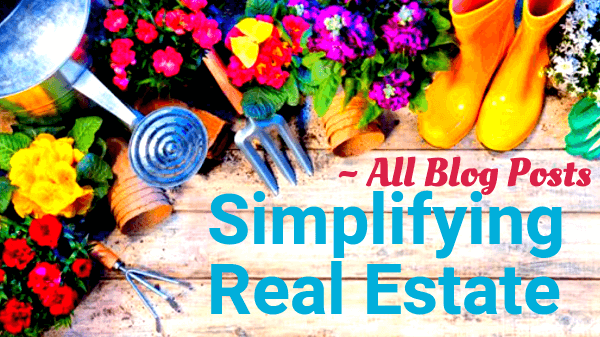 As we move forward, it's been challenging as we navigated through all the changes. Putting your dream of a new home on HOLD shouldn't be one of them. Now more than ever, knowledge will help you set up your Negotiation Power. Check out Categories for additional updates regarding The Market | Buying | Selling
Buying and Selling Guides
Do You Have a Questions❓
Testimonials Scroll Down🤩