Do you ever get tired of hearing about all those gloomy predictions for the future? Well, I've got some good news for you! In this blog, we're going to dive into the latest headlines about the Housing Market Crashing 2024 in Metro Detroit. 🥴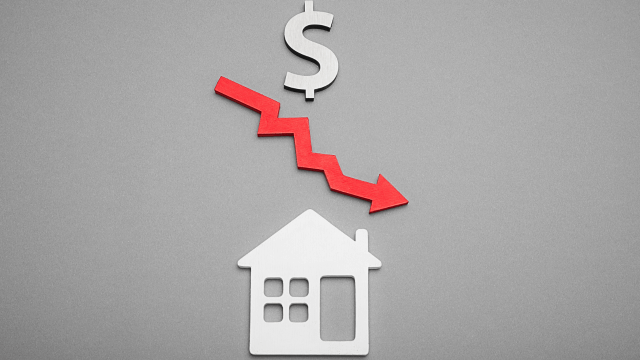 Let's Review the Past Housing Market Crash
You might recall the housing crash in 2008, even if you weren't a homeowner then. If you're concerned about a repeat of those events, rest assured – today's housing market stands apart from 2008. Having been involved in real estate both before and after the crash, I can confidently affirm that we've overcome several key issues: high unemployment, homes trapped in negative equity, an oversupply of homes for sale, sub-prime lending concerns, and regulatory lapses. The current landscape offers a more stable and promising environment for both prospective home sellers and buyers. Let's review "Housing Market Crashing 2024" in Metro Detroit. 
Let's Take a Closer Look at Housing Inventory
There's a key reason driving the current Metro Detroit real estate landscape: a shortage of available homes for sale. It's crucial to grasp that we're not facing an oversupply, as was the case in the past. To witness the Housing Market Crashing 2024 , an excess of homes on the market would be necessary. However, the data indicates that this isn't the case. The housing supply stems from three primary sources:
Homeowners who decide to put their houses on the market.
Newly constructed homes.
Distressed properties, including foreclosures and short sales.
Now, let's delve deeper into today's housing inventory to understand why the current situation differs significantly from that of 2008.
Homeowners Considering Selling Their Homes
While there has been some growth in housing supply compared to last year, it remains relatively low. The current month's supply is below what's typically expected. You can see this trend clearly in the graph below. When you examine the most recent data (highlighted in green) in contrast to 2008 (depicted in red), it's evident that today's available inventory is only about one-third of what it was back then. The main reason the Housing Market Crashing 2024 isn't going to take place.  This situation presents opportunities for both prospective sellers and buyers, and we're here to help you navigate this dynamic market.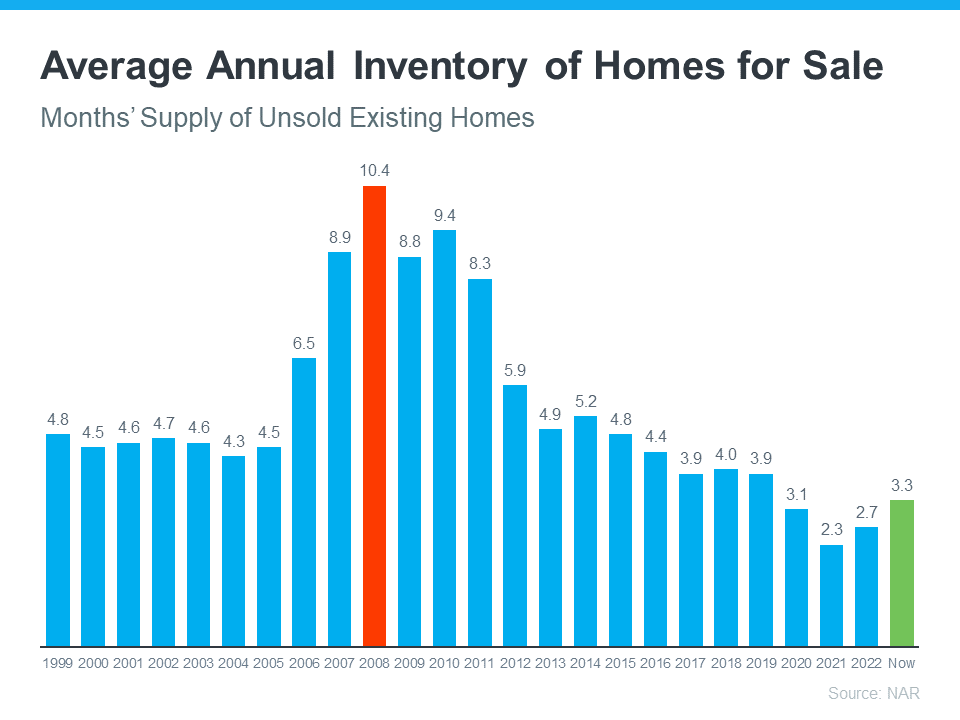 So, what does this mean? There just aren't enough homes available to make home values drop. To have a repeat of 2008, there'd need to be a lot more people selling their houses with very few buyers, and that's not happening right now.
Newly Built Homes
"Newly constructed homes have been a topic of conversation lately, and it's natural to question the pace of homebuilding. Take a look at the graph below, which tracks the growth in new home construction over the past 52 years. This data provides valuable insights for those considering the real estate market."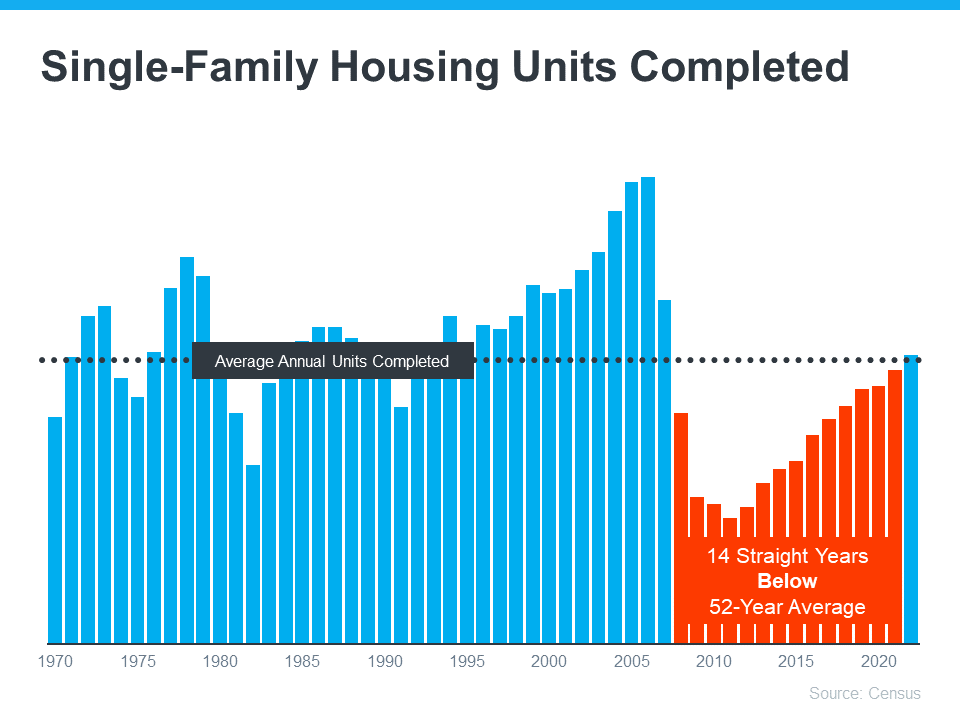 For 14 years, there's been a construction gap (shown in Red) —just not enough new homes. This has led to today's low inventory. But there's a silver lining! Builders are finally catching up, aiming to hit the long-term average again. Don't worry about an oversupply; the gap is still too big to fill instantly. Plus, builders have learned from past mistakes—they're cautious not to overbuild like before. It's a careful, promising step toward balancing our housing needs.
Distressed Properties (Foreclosures and Short Sales)
"In the realm of housing inventory, distressed properties such as short sales and foreclosures have been a notable source. Looking back to the housing crisis, we witnessed a surge in foreclosures, primarily driven by lenient lending standards that allowed many individuals to secure home loans beyond their true means.
Fast forward to today, and we find a transformed landscape with significantly tighter lending standards. This shift has led to a rise in qualified buyers and a remarkable decline in foreclosure rates. To illustrate this positive change, we've included a graph below, sourced from the Federal Reserve, offering a visual representation of how the housing market has evolved since the housing crash."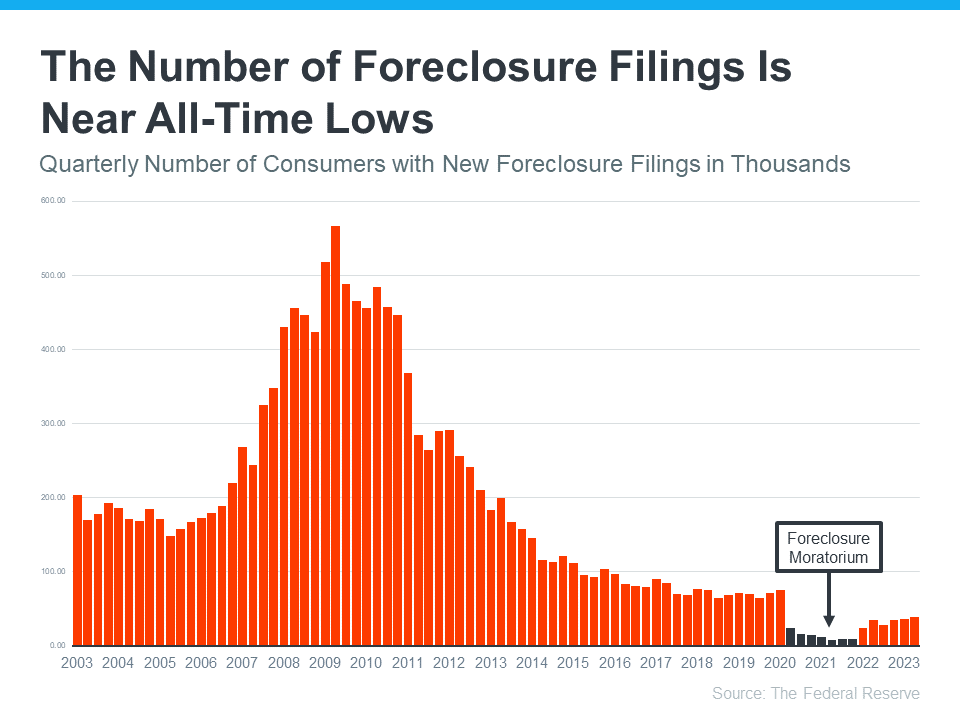 Navigating Tighter Lending Standards
In this insightful graph, we witness the positive impact of tighter lending standards and a more qualified buyer pool on the reduction of foreclosures. The years 2020 and 2021 brought forth a unique combination of foreclosure moratoriums and the introduction of the forbearance program, which effectively averted a recurrence of the foreclosure crisis reminiscent of 2008.
The forbearance program emerged as a pivotal game-changer, granting homeowners newfound flexibility through options like loan deferrals and modifications, previously unavailable to them. Remarkably, statistics affirm the program's success, revealing that an impressive four out of every five homeowners exiting forbearance have either settled their dues in full or formulated a tailored repayment strategy to safeguard their homes from foreclosure. These compelling developments stand as a testament to the reassuring outlook for both current and future homeowners, dispelling any looming concerns of a foreclosure surge in the market.
What Does This Mean for You?
Good news! Now is a stable time in the housing market. Low inventory levels mean prices aren't dropping dramatically anytime soon. And guess what? Buyer demand remains high. If you're thinking of buying or selling, this landscape offers solid opportunities for both. So, no need to worry about a market crash right now—just opportunities waiting for you. According to Bankrate:
"This ongoing lack of inventory explains why many buyers still have little choice but to bid up prices. And it also indicates that the supply-and-demand equationsimply won't allow a price crash in the near future."
Bottom Line
We're not headed for a 2008-like housing crash. Why? Simple. There just aren't enough homes on the market for that to happen. Plus, current trends don't show any big changes coming up. In short, housing inventory signals a stable future, offering a win-win for both buyers and sellers. Time to seize the opportunity!
Your Bonus ~

Direct Access to the Multiple Listing Service for Home Prices and Trends ⤵️
On my website, you have a  direct connection to the Multiple Listing Service in Metro Detroit and a treasure trove of helpful information. I'm here to walk you through the process. 1st up,  focusing on Macomb and Oakland County.
Your City Trends for Buyers
But that's not all. Then we explore our Metro Detroit City Trends section, where you'll find up-to-date data covering the past three years, neatly organized in 50k increments. No need to guess about changing home prices; this tool helps home buyers easily discover affordable areas, ensuring you make a smart investment.
Your City Trends for Sellers
This resource is just as valuable for you. It equips you with the knowledge to confidently set the perfect asking price for your home, making selling a breeze in Metro Detroit. Whether you're buying or selling, you're in the right place to make well-informed decisions that will shape your real estate future.
If you find this information useful, like and share it with your friends and family.
More Help Is

1️⃣

Click Away

⤵️
Contact me with any Questions

🤩

Testimonials Scroll Down…

👍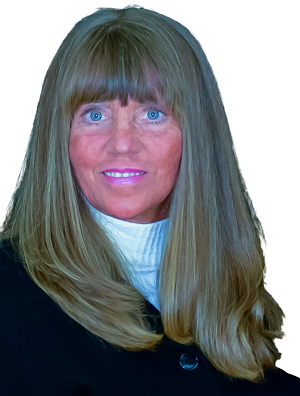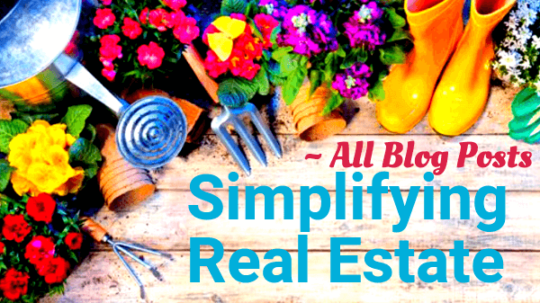 As we move forward, it's been challenging as we navigate through all the changes. Putting your dream of a new home on HOLD shouldn't be one of them. Now more than ever, knowledge will help you set up your Negotiation Power. Check out Categories for additional updates regarding the Our Blog Post.
To Keep up to date request our 🏡 Chat Newsletter or Follow us on Facebook, Instagram, or YouTube.
Buying and Selling Guides
☎ ~

+1 (248) 343-2459
📩 Email
Website Development, Production, and Content by Pam Sawyer @ Team Tag It Sold © 2017 All Rights Reserved