Home Buying Negotiation Advice for Metro Detroit Homebuyers
Homebuyers, we will work through our home buying negotiation tips when purchasing a home beyond just negotiating the Price in Metro Detroit. ~
Gosh! Working through the negotiation strategies sometimes feels like you're in a dual between logic vs. frustration as you work through the process. The struggle between facts and emotions is frustrating if you don't have a plan. Creating the Purchase Agreement is only the 1st step in the negotiating process. Once all parties sign the agreement, a few more steps may come into play. There is a possibility you may have to work through some additional negotiations. What if you have home inspection issues and the home doesn't appraise.
Balancing Both Relationship and Substance
It's essential to understand that relationship and substance coincide to have a favorable outcome in your negotiation process. Let's say we start the negotiations with a series of offers and counteroffers. Eventually, this process results in an agreement on price and terms. The terms of the deal are the substance of the negotiation process. While defining the agreement's terms, the buyer(s) and the seller(s) develop feelings about one another. This feeling can either be favorable or unfavorable. These feelings everyone is having towards the transaction is the relationship. Is it a good relationship, one that needs work, or did everyone get off on the wrong foot?
Preparing Yourself to Negotiate
To overcome "Form Phobia," I recommend before you sign a buyer agency contract, review the real estate documents in advance and ask questions right away. Don't wait until you have found a home you want to buy. You want to feel comfortable with the legal documents and understand what you're signing and why. This will help you keep a clear sense of reality and not feel overwhelmed with the process. The goal is knowing you are making the best decision on moving forward based on facts. Determining your flexibility will help you focus on the plan you are trying to meet.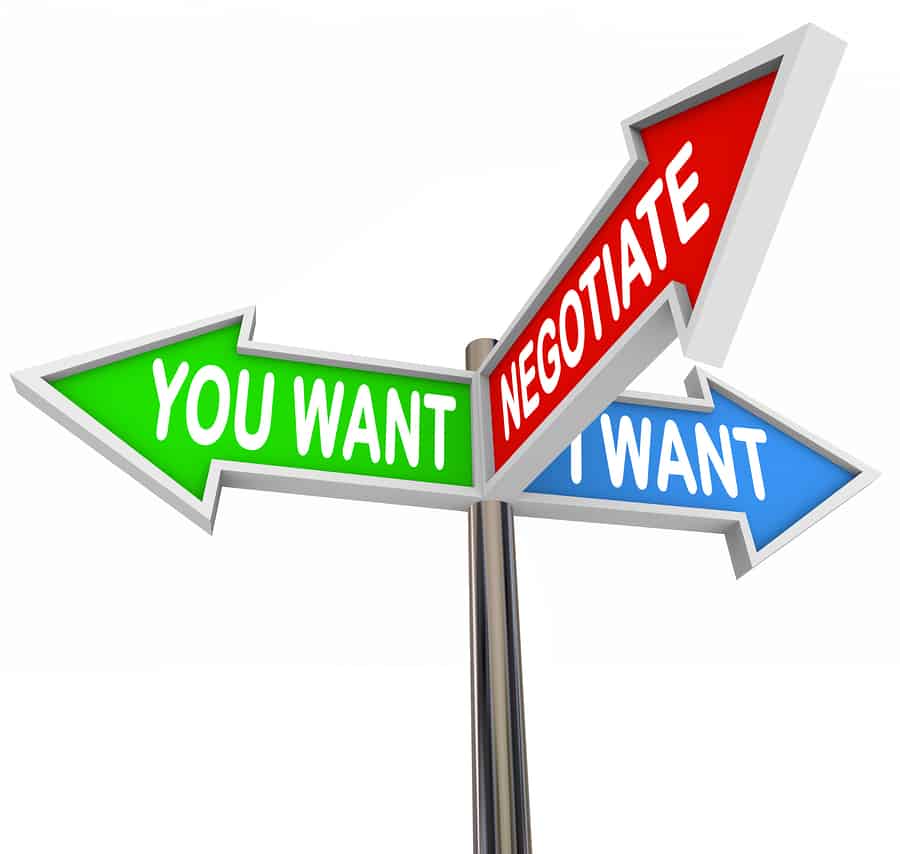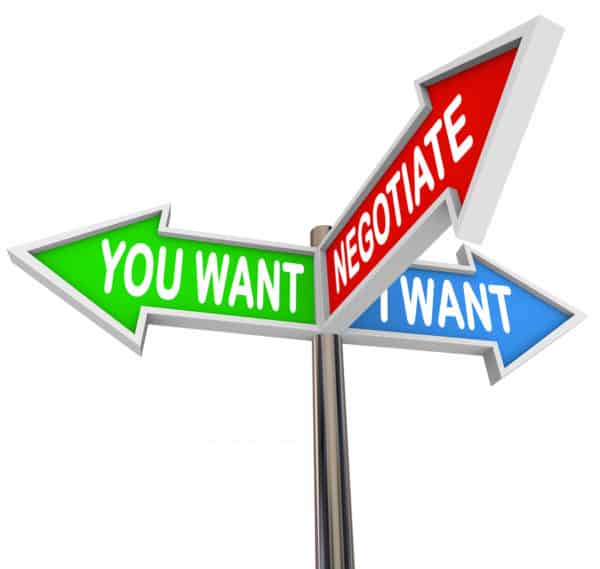 We need to check, "What is the home worth? "
Most agents will start with the comps, what other homes sold for in the area, and leave it at that. Yes, this is important, and we will check those numbers and set them aside for the next set of numbers. Let's look at the property through the Appraiser's eyes and what condition rating they could give the home about value. What updates does this property have that the others didn't, and can we put a dollar value on those improvements? I call this Price Driven Vs. Value-Driven Approach and have more details on the subject.   
Reviewing Public Data
Next, I pull public records and check the city's opinion of value and pull a Realtor Public Report. Lastly will look at our Market Intelligence Report, our crystal ball on what's going on with the market.   We will check all the documents regarding price and value, figure in your mortgage approval, and see if there is any money to play with. There are two ways we can write the offer NOT contingent on appraisal (you pay the difference) or contingent on appraisal (opens negotiations with the seller about price). After reviewing all the price information, "What Is The Home Worth To You" at the end of the day?
If There was an Issue with Inspection
The inspection is an essential part of your transaction. Take some time and review the credentials and certification of the inspection company. Many inspectors have different ways to report. The best report, in my opinion, is a report that has a picture and a description of the issue and recommendations next to it. In most cases, they even place an arrow on the problem to draw attention to the issue. It's hard for a Seller to dispute a fact; picture a problem and a solution next to it. You can also decide not to move forward with the purchase based on the inspection.   Every issue has a potential solution and will be addressed based on facts.
Keeping the Drama at Bay
Sometimes drama enters the negotiations process based on personalities and how they handle problems. When you hire an excellent inspection company with impressive credentials and reports, facts are facts, and they are hard to dispute. One of the inspectors I highly recommend is Weatherstone Inspection. It is up to you who you select to represent your interest during the home inspection.    The most important key is, take the time to work through the process one step at a time. Review all information and do your "Due Diligence." Everything is in writing every step of the way.
The Dreadful Bidding Wars
What can you do if you find yourself in this situation? If you plan for it upfront, you won't be surprised.   I will share my viewpoints on the subject and a plan to handle the problem. When you are working through your interview process for an agent, please find out how they would handle the situation. It doesn't hurt to ask a few "What if's scenarios" as part of the interview process and build trust.   You may find you don't want to work with them, and you should know that before you put in an offer. The last thing you want to do is you put in the time, find your perfect home, send in your offer, and lose it based on how the agent negotiated or on recommendations you didn't work through 1st. Usually, I find the breakdown between a home buyer and agent was over "TRUST." 
Now that you found your perfect home, what's next?
Hopefully, you have worked through all your negotiations with your Lender and are pre-approved. Pre-Approval should be step #1 before you even schedule appointments to view homes. After finding the perfect house, you need to work through Price and Terms. Some terms could be; a closing date, how many days after closing before you can take possession, how much per day in rent, to name a few. Next is the Inspection and negotiating any issues slowly and methodically.
We Are Ready to Get Your Lender Involved
Okay, now we get the Lender involved and order the appraisal. What if something goes wrong along the way? We've reviewed the Price and Value of the property before we put in an offer. If we think we may have an issue because the house is on the market higher than we believe the appraisal will be, we negotiate that upfront and share our report with the agent with your offer. We can start discussions with the Agent and possible Seller in advance. If the appraisal is lower than your offer, we already have a plan in place on how to proceed. If a Seller has no interest in lowering the price to Appraised Value, we will discuss and plan before moving forward with the Inspection. Some Sellers will sell if they get X, and sometimes X just isn't there. It will be up to you if you are willing to pay over the appraised value. That will be cash out of your pocket, not the banks.
Ask Questions?
Before we start the negotiation process, I like to start with the Listing Agent. Maybe the Seller needs more time after the closing, which is more important to them than the highest bid. Perhaps they're the original owners and raised their family there, and it's more important to them to pass the baton to the next generation. The point is we don't know until we ask. So, write a letter and add a picture of the family. Do not assume the price is the end-all-be-all to the sellers. Keep emotion out of your negotiation strategy and deal with the facts only. Let's get to know the Seller's a little bit and see if we can make this a Win-Win!
Now the Critical Emotional Questions:
Is this house a want or need? Does this house have EVERYTHING you are looking for? Does it fit your budget if you go up in price? How will it make you feel living there, and how will you feel if you don't. Then make your offer knowing you have done your BEST!
Your 🔑 To Home Selling and Buying Success ~ Safe PDF Guides
👈👈👈

Watch Video for Sneak Peak
Don't muddle through the Home Buying and Selling Process. Buying a new home is a dream for all of us, and it's an emotional and stressful process.
It also involves the most significant financial transaction you probably will make in your lifetime. Your Buying Guide…will walk you through tips, strategies, and how to understand the numbers to strengthen your negotiation power.
Your Selling Guide…It will help you work through the selling process using the latest in high-tech market tools, so you make MORE Money. Our goal is to separate your home from the competition, keep Buyers focused on your house. The Selling Guide is very detailed and works step-by-step, so you're guaranteed Top Dollar for your home.
Home Buying Negotiation Bottom Line
In my opinion, to succeed at the highest level, you need a plan and excellent communication with ALL parties. Before you even put in an offer, the 1st communication should be with the listing agent. Not all agents are accessible or knowledgeable in Real Estate Sales, so you should know that upfront. More importantly, is ask lots of "What If" questions to verify the agent you are working with is the right fit. It's also a great way to test their knowledge.
Simplifying Real Estate Through Education
As we move forward, it's been challenging as we navigated through all the changes. Putting your dream of a new home on HOLD shouldn't be one of them. Now more than ever, knowledge will be your power. Know the Market You're In and your Negotiation Power. Check out Categories for additional updates regarding the Market | Buying | Selling
If You Need To Sell 1st… I Recommend

🛑

Doing This!
No 2 homes are alike, and agents need to 🛑 marketing ONE size fits all. We no longer have an exposure problem (internet). Your home is buried on public home search internet sites. The only way to compete on those platforms is the price. If you want more money, you need to apply Influence. Separate your home from the competition, so the Buyer sees value. Keeping them focused on your property and not getting lost in homes' inaccurate data on public internet sites is necessary. Having digital omnipresence on serval platforms is your key to success. Remember MORE INFLUENCE = MORE 💰. We have details on how you can utilize High Tech Marketing and Win!
Have Questions?
If you have any questions, contact us: Chatbot 🤖 at the bottom. Contact me by Email 📩 or my Cell 📲 @ 248-343-2459. Would you mind sharing your thoughts below or what future article you would like to see? Your opinion is important to us…. this site is for you.🤩 To Keep up to date request our 🏡 Chat Newsletter or Follow us on Facebook, Instagram, or YouTube.
[vc_row][vc_column width="1/4″][vc_icon icon_fontawesome="fas fa-book-reader" color="white" background_style="rounded" background_color="custom" size="lg" align="center" custom_background_color="#b80404″ link="url:https%3A%2F%2Fmetrodetroithomeexperts.com%2Freal-estate-guides-for-buying-and-selling-a-home-now%2F||target:%20_blank|"][vc_column_text]
Buying and Selling Guide
[/vc_column_text][/vc_column][vc_column width="1/4″][vc_icon icon_fontawesome="fas fa-mobile" color="white" background_style="rounded" background_color="custom" size="lg" align="center" custom_background_color="#b80404″ link="url:https%3A%2F%2Fmetrodetroithomeexperts.com%2Fkeller-williams-mobile-app-lp%2F||target:%20_blank|"][vc_column_text]
New Mobile App with Video
[/vc_column_text][/vc_column][vc_column width="1/4″][vc_icon icon_fontawesome="fab fa-gratipay" color="white" background_style="rounded" background_color="custom" size="lg" align="center" custom_background_color="#b80404″ link="url:https%3A%2F%2Fmetrodetroithomeexperts.com%2Ftips%2F||target:%20_blank|"][vc_column_text]
Simplifying Real Estate ~ Blog
[/vc_column_text][/vc_column][vc_column width="1/4″][vc_icon icon_fontawesome="fas fa-house-damage" color="white" background_style="rounded" background_color="custom" size="lg" align="center" custom_background_color="#b80404″ link="url:https%3A%2F%2Fmetrodetroithomeexperts.com%2Fhomes-for-sale-in-metro-detroit-mi-the-best-search%2F||target:%20_blank|"][vc_column_text]
Custom Home Search Options
[/vc_column_text][/vc_column][/vc_row]